Safety Circuit Rider - a service provided by CDOT
Local agencies operate and own approximately 75% of all public roadways in Colorado. Nearly 80% of these roads are classified as rural. Though these roads only carry 40% of the traffic, nearly 60% of all crash fatalities occur on local roads.
Background
In 2005, the Federal Highway Administration (FHWA) identified an opportunity to enhance safety service primarily to serve counties and local agencies and Safety Circuit Rider positions were developed in the states of Florida, Kentucky and West Virginia. Today, there are more than 20 states that have developed SCR positions. The Colorado Department of Transportation (CDOT), in partnership with the FHWA and Colorado LTAP, is pleased to announce the creation of the Safety Circuit Rider position for Colorado. Our mission is to provide safety related training and to work hand-in-hand, boots on the ground, with counties to identify, diagnose, and treat safety deficiencies on the local roadway system. The Safety Circuit Rider program works toward vision zero in support of the Statewide Safety Plan.
Program Mission
Colorado Safety Circuit Rider's mission is to equitably provide safety-related technical assistance to local agencies developing infrastructure safety improvement projects located off the state highway system.
What Colorado Safety Circuit Rider can do for you
Colorado Safety Circuit Rider partners with local agencies to reduce accidents on Colorado roadways. Roadway departures and intersection crashes are common, but there are a number of low cost countermeasures that can be implemented to reduce those occurrences. There is also Federal funding available for these projects. Please feel free to reach out if you are not sure how to get started, have hit a sticking point with safety on your roads or need more information.
The Safety Circuit Rider Team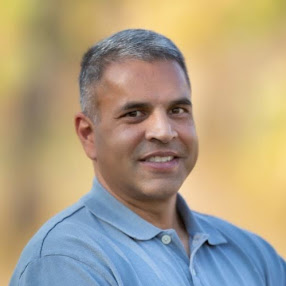 Sanjiv Gupta, P.E.
sanjiv.gupta@state.co.us
720-454-4766
Sanjiv Gupta joined the CDOT Traffic Safety and Engineering Branch as the Safety Circuit Rider in 2023. He has been with CDOT since 2018 as an Intelligent Transportation Systems Project Engineer and has designed and overseen construction of safety projects around the state.
Prior to joining CDOT, Sanjiv worked in Information Technology and the Oil & Gas Industry. He holds a B.S. in Engineering from Purdue University and an M.B.A. from the University of Colorado.
Sanjiv enjoys bicycling and has a Colorado motorcycle endorsement. He lives in Lakewood with his wife and two teenage daughters.

The Safety Circuit Rider White Papers
Not all locations are good candidates for marked crosswalks. An engineering analysis must be conducted for each new location as well determining if existing crosswalks should be removed based on the design and ADT of the location.
Emergency Response - Golden Hour
For emergency medicine, the "Golden Hour" refers to the immediate one-hour time period following a traumatic car crash injury, during which, chances of preventing death by way of prompt medical treatment are the highest. Approximately 36% of fatal crashes in rural areas had response times greater than 60 minutes. There is a need to improve this time as we push toward vision zero.
Guardrail is a very effective safety device and has saved many lives. It is understood that the guardrail is protecting a hazard that may have caused a fatal crash. The point of this paper is to have one consider all the above options prior to the consideration of guardrail installation.
According to National Safety Council, 36% of all motorcycle fatalities in 2017 were older riders (50 years and older). According to the Insurance Information Institute, in 2016, motorcycle fatality rates were approximately 30 times greater than fatality rates for passenger cars. One can conclude that motorcycle fatality rates are disproportionately higher than that of a passenger car.
Pedestrian and Bicycle crashes are on the rise nationwide. As such, we as safety
professionals need to address pedestrian and bike safety in all aspects for both maintenance and engineering projects. Because pedestrians are among the most vulnerable road users, the guidance is intended to help transportation agencies and other entities to address crashes by promoting countermeasures with proven benefits at uncontrolled crossing locations.
According to the Federal Highway Administration (FHWA), in 2012 there were 1,357,430 miles of unpaved roads in the United States, accounting for almost 35 percent of the more than 4 million miles of roadway. There are 184,913 lane miles in Colorado. Of those lane miles, 105,130 lane miles are unpaved representing approximately 57% of all roadways in Colorado. Even though there are more unpaved roads in Colorado, nationally unpaved roads only account for approximately 2 percent of fatalities.
Using a Systemic Approach to Crash Analysis
Developing a crash analysis for rural areas can be a challenging task. Traditionally, a crash site analysis approach is employed for most roadways to look for hot spots (cluster of crashes) and then develops countermeasures based on the crash type. However, in rural areas, hot spots generally do not exist. Due to the low volume of rural roads, the crashes tend to be dispersed with no apparent pattern. As such, using a systemic approach can be effective.